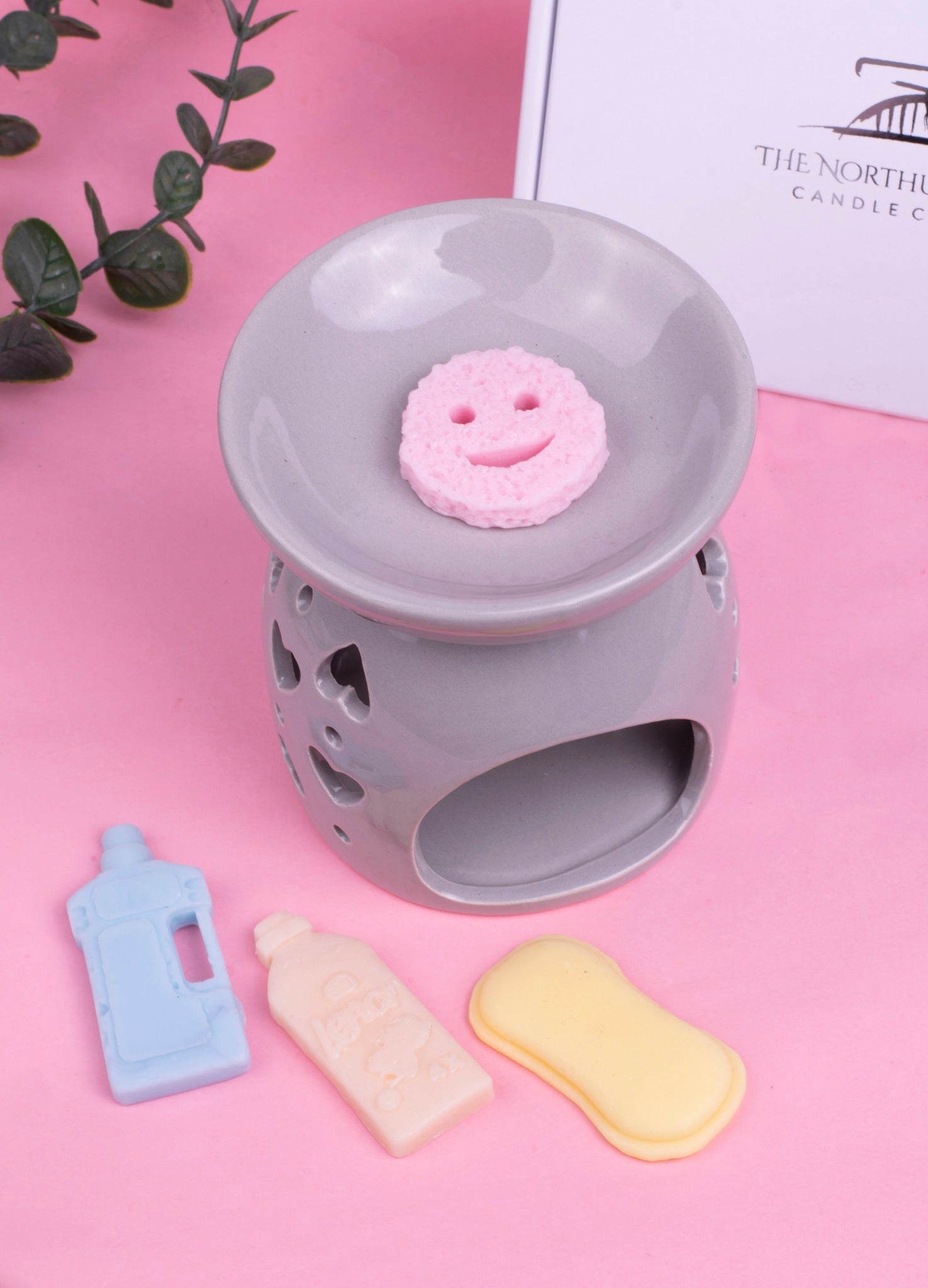 Got a question? Find your answer here.
Frequently asked questions
Often you may see many companies advertise vegan friendly melts and candles, yes they may be, but is the packaging ? We initially thought our melts and candles were vegan friendly, however after researching a little, we realised that the glue in the stickers isn't vegan friendly. This is one of the reasons we don't claim to be vegan friendly.
This isn't the easiest of questions to answer. Firstly you shouldn't leave burners or carpet freshener unattended while in use around children or pets. Obviously incase a child or pet knocks over a burner and the carpet freshener if they try to consume it while on the floor. 

Regards pets generally, many companies just blanket say they are friendly, we'd rather be honest, pets are like humans, they are all built different. Just as a human could be allergic to some of the ingredients we use in our products an animal could be. All our products have CLP labels, which identify any allergens triggered by the use of our ingredients. If you were to use a product and you noticed a pet was agitated, we'd recommend you stopped use and if it persisted seek medical assistance and take the product along with labelling with you.
The only animal it really isn't advised to use scented products around is a budgie as they have small lungs and Perfume and other fumes are highly toxic to a bird's respiratory system. This is mainly due to their natural ability to exchange gasses into oxygen for flying.
Saying all of the above, we have been retailing for 3 years and never had any feedback from any customers that their pets have been unwell at all, we just wouldn't want to say 100% you can when there's always that slight chance. 
We state our turnaround time is up to 5 working days. We state this as we are a small business with a big product range. It's hard to keep all items in stock and some will be made to order for example candles. 
We usually despatch in 1-2 days, unless a product is being made or we have had busy period (eg black friday, sales, xmas etc.)

If you would like an exact time frame please contact us first so we can update you. 
We use Royal Mail for shipping. We have 2 different options:

48hr Tracked - Although Royal Mail call this service 48hr it can take up to 10 working days to be delivered and we have to allow this time before we can put a claim in. (This service is used for free shipping) 
24hr Tracked - Although Royal Mail call this service 24hr it can take up to 5 working days to be delivered and we have to allow this time before we can put a claim in. (You can upgrade free shipping to this for an additional £3)
We currently work from home still, it is possible to collect, but you must contact us first to ensure products are ready top collect and arrange a time. 
Depending on the distance, we do sometimes. Please contact us first with your postcode and we will confirm if we do or don't.
It's not a service we offer online as standard, this is due to the prices varying massively. We have shipped internationally previously and still can, but please contact us first stating what you'd like to order and the country for delivery so we can get you a price. 
North Points is the new loyalty scheme we introduced after customer feedback, you collect 5 points per £1 spent, there are many different ways you can spend this points. Also make sure you add your birthday to get 200 points on your birthday. 
If you log into your account, under where you see your name there's an option 'Manage Subscriptions' from there you can decide to cancel/pause your subscription.
If you order on the 6th of a month until the 5th of the following month that will be for the following or current month. 

For example:
- If you purchase a subscription on 5th September that would be for the September box 
- If you order 6th September that would be for Octobers box.
- If you order 5th October that would be for Octobers box
- If you order 6th October that will be for Novembers box
You pay a month in advance and we need a cut off date each month, so hope that makes sense, we realise it can be confusing, if you need any help, please don't hesitate to contact us.
Subscriptions leave us by the 10th of each month. 
Contact us
If we haven't answered your questions above please don't hesitate to contact us.
Shop your favourite scent